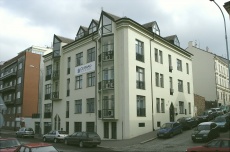 ČESMAD BOHEMIA, the association of road transport operators, is the largest association of carriers operating in the national and international carriage of goods and passengers in the Czech Republic.
THE VISION OF THE ASSOCIATION ČESMAD BOHEMIA
We want to be a strong partner for state administration not just at home but abroad too. One that is able to effectively defend and promote the interests of its members. To make it easier for our members to do business we want to become the biggest and most comprehensive provider of information and services for road transport operators. This will increase their competitiveness. We want to improve the image of road transport by giving our members professional training and increasing road safety. Futhermore, we want to be a serious partner for all stake-holders with good quality staff that undergo ongoing training.
THE MISSION OF THE ASSOCIATION ČESMAD BOHEMIA
" The Association's goal and mission is to support the development and prosperity of road transport and, at the same time, protect and promote the interests of companies operating domestic and international road freight transport and bus transport."
(From the charter of the Association ČESMAD BOHEMIA)